The $6.7 billion West Gate Tunnel could face a wave of fresh legal battles over plans to dump soil contaminated with PFAS in landfill in Melbourne's west.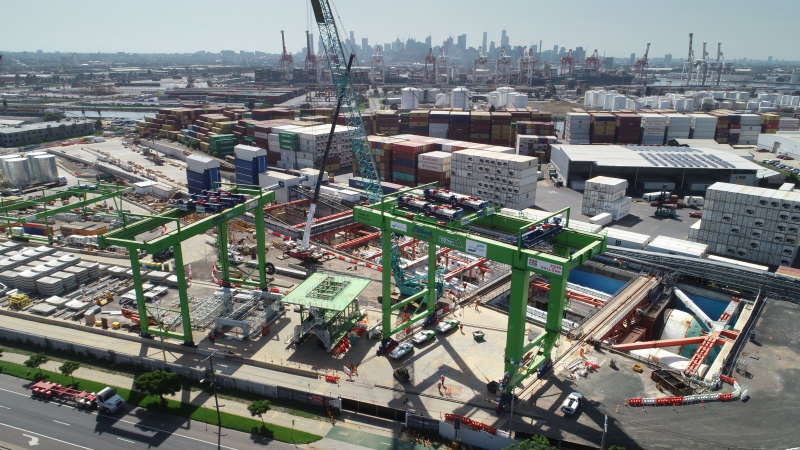 Moorabool Shire Council is considering launching legal action that may further delay tunnelling on Transurban's new toll road, as Bacchus Marsh residents weigh up a separate legal bid to stop PFAS soil getting dumped at the Maddingley Brown Coal landfill site, which is located hundreds of metres from homes and schools.
It comes as Maddingley, shortlisted to accept the project's 1.2 million cubic metres of soil, lodged an application with Planning Minister Richard Wynne to use special powers to intervene and replace the council as the planning authority.
Moorabool mayor David Edwards said if shire council was shut out of the planning process and the soil was sent to Maddingley, there was little option but to consider legal action.
"Council would explore all legal avenues available to it to ensure that the community remains safe," he said.
The shire council confirmed on Friday that it would take Maddingley Brown Coal to VCAT over alleged breaches of their permit relating to the landfill's current operations.
In April, it asked the Andrews government and Transurban to suspend plans to send soil to Maddingley during the COVID-19 pandemic, complaining of a lack of community consultation and technical reports being kept secret.
"You may be able to tell everybody 'don't worry, it's safe' but if you don't have that evidence, if you can't provide that assurance, you're going to cause a lot of grief and angst in the community and that's exactly what's playing out," Cr Edwards said.
Bacchus Marsh resident Kat Barlow said it was wrong to send the West Gate Tunnel's soil to Maddingley if the business was already in breach of their permit.
"If they choose Maddingley, we will take legal action," she warned. "We won't ever stop the fight because we're not willing to compromise our safety or our future." The group had set up a Go Fund Me page asking residents to help support their legal fees.
Soil contamination at the West Gate Tunnel project has halted works and now a contractual dispute over whether the builders will continue.
Other community groups such as the Moorabool Environment Group say they are exploring all possible options to stop the soil being sent to the landfill.
Trucks from the West Gate Tunnel have been transporting soil with low levels of PFAS to Hi-Quality in Bulla in recent weeks. Hi-Quality and Cleanaway in Ravenhall are other landfill sites shortlisted to receive the project's tunnelling soil.
While these landfills are licensed to take low levels of PFAS, concerned residents want to know exactly how the soil will be dumped to ensure it does not leach out, and how soil with very high levels of PFAS would be managed.
Leaked borehole tests revealed PFAS contamination is up to 2000 times the acceptable amount in drinking water in one hotspot.
Transurban admitted this week the project is running behind schedule and would open in 2023 instead of late 2022 because of delays in managing the project's contaminated soil.
A government spokeswoman said no planning decision had been made about Maddingley and approvals from EPA Victoria were also required.
"The minister will consider all relevant matters under the planning laws in an appropriate timeframe."
A West Gate Tunnel project spokeswoman said: "The levels of PFAS in the soil from the tunnel boring are expected to be low and at safe levels for the community and the environment with appropriate controls."
A Transurban spokeswoman said the EPA would decide how the PFAS soil is disposed of and the project's builders were working on a "tailored solution for tunnelling that meets all the relevant EPA requirements".
The spokeswoman said testing showed the levels of PFAS expected to be found during tunnelling are lower than what is considered acceptable by authorities in recreational water.
Source: Timna Jacks The Age